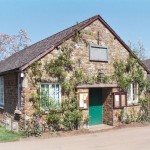 Welcome to the Village Hall page of our village website.  Here you will find general information about the hall:  history, committee members, facilities and making a booking.
History
Preston Capes Village Hall was founded in July 1939 on land given by the Knightley's of Fawsley. The wrought iron lantern over the door of the hall was provided by villagers to commemorate the Coronation of HM Queen Elizabeth II in 1953. In 2003, to celebrate the new Millennium, a specially-commissioned brass sundial was placed on the wall above the front door of the village hall.  This was paid for by donations from local organisations, businesses and individuals, plus a grant from Daventry District Council.
Facilities
The kitchen includes an electric oven, microwave, electric urn, refrigerator and dishwasher. The purpose-built bar area has a drinks refrigerator, and a skittles table and dartboard are available by prior arrangement. The hall has full disabled access, including a unisex wheelchair-usable toilet.
If you require further information regarding facilities and equipment, please contact Rachel Bracher at rachel.a.bracher@gmail.com.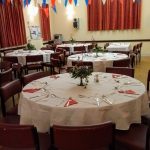 Hire Charges
Hire of Hall (including heat, light, tables, chairs, kitchen equipment and facilities as found): Residents of the village can hire the hall free of charge for non commercial purposes. Non residents and businesses should contact Rachel for the latest hire charges. All bookings should be made via Rachel and are not confirmed until you are notified by her.
The notice board is locked but if you wish to use it please drop your notice through the letterbox to be picked up by a committee member.